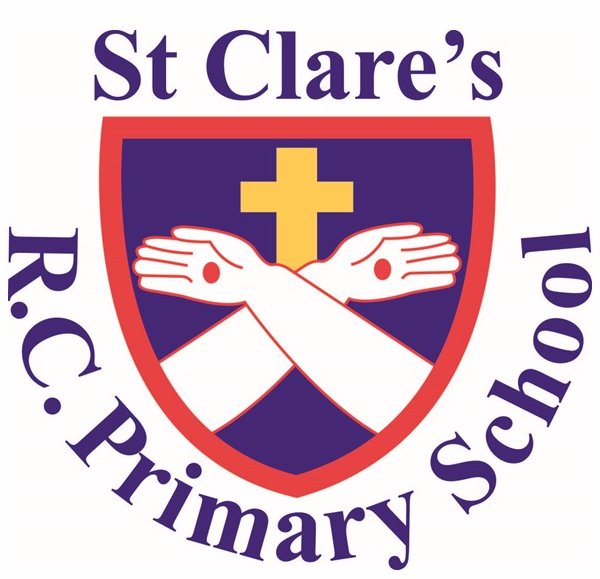 Hello and welcome to the Year 5 class page!
We would like to welcome you and your child to a new year at St Clare's. We are very much looking forward to the year ahead! On this page, you will find information about what the children will be learning throughout and the year and photographs of their amazing work.
Below is a list of general information on the weekly routines for each class.
Spellings will be handed out on a Monday with the test being on Friday.
Homework will be handed out on a Friday to be completed by the following Wednesday.
The daily reading expectation for year 5 is 30mins a night and reading records should be signed and brought into school every day.
5W - P.E - Tuesday indoor, Wednesday outdoor
5G - P.E - Wednesday outdoor, Friday indoor
5W welcome presentation
5G Meet the Teacher Presentation
If you have any questions, please get in contact.
Mr Willis
Email: r.willis@st-clares.manchester.sch.uk
Miss Gibson
Email: j.gibson@st-clares.manchester.sch.uk
Spring 1 in Year 5
Science
Our topic for science this term was forces so we did lots of experiments to investigate air resistance and water resistance. For air resistance we designed parachutes of different sizes and conducted a test to see which size was the most effective. We made sure our experiment was fair by dropping from the same height each time and by keeping the materials to make the parachutes consistent. We also investigated water resistance firstly by shaping playdough to see if we could make it float and sink and then testing different designs of boats to conclude which design was fastest.
Coding Workshop
Both year 5 classes were treated to a coding workshop where they were given the opportunity to make their own robots out of lego. Children then used coding to program their robot to move. The children were far more knowledgeable than I was and really enjoyed the afternoon!
Autumn 2 in year 5
Design and Technology
During this half term we had lots of fun designing, making and evaluating our own bread. We started by learning about the process of making bread in the factory and then tried tasting different breads from around the world. Next we applied what we had learned to designing and making our own bread. It was a great success!
Y5 Bread
Music
We had the great privilege of learning violin with our fantastic external music teacher. All the children enjoyed learning some of the different notes and by the end of our lessons we could all join in with a variety of songs.
Y5 Violins

P.E.
During this half term we had fun practicing our gymnastics skills. We learnt different jumps and bridges and then made progress by using movements to link our poses together.
Y5 Gymnastics

Maths
During this term we worked hard in maths to learn about mental methods for multiplication and division and the properties of different numbers such as: primes, squares, factors and multiples. We also started our work on fractions and by the end of the topic we could find equivalent fractions, convert fractions to mixed numbers and add/subtract. During November we also had lots of fun on Rockstar Day where we dressed up as famous rockstars and did a variety of times tables activities.
Year 5 Times Table Rockstars Day
RE
To end the term we learnt about Advent and performed a special assembly for the school and our parents. Advent means coming and our assembly reminded us about this special time of year where we wait for the coming of Jesus at Christmas.
Advent
Autumn 1 in year 5
English
During Autumn 1 our class read was Who let the God's out by Maz Evans, this tied in with our history topic looking at Ancient Greece. Using our class read we worked on two different literary genres newspapers and narratives some examples which you can see here.
Year 5 English
Maths
As Mathematics in Autumn 1 we focused on place value and addition and subtraction. We look at a variety of different topics during our work on place value such as representation of number, rounding, roman numerals and using place value columns to add multiples of 10. In addition and subtraction we focused on both mental and written strategies to help the answer questions and solve reasoning problems.
Year 5 Maths
Science
Our topic in science during Autumn 1 was to look at properties of different materials, we conducted numerous investigations where the children were able to engage their scientific curiosity by asking questions and working to find the answer.
5W Science
History
As historians in Autumn 1 we travelled back to Ancient Greece. We explored numerous areas of the Ancient Greeks, looking at two city states, the Olympic games, Philosophers, democracy and education.
Year 5 History
R.E.
In Autumn 1 we thought about ourselves and the part we play as God's family. We explored how God created us to be special and unique and how we all have valuable gifts and talents we can share with others. We also spent a week learning about Judaism and focused on the story of Passover and how Jewish people still celebrate it today.
Check out our videos on the four operations:
Addition
Subtraction
Multiplication
Division
Useful websites:
You may find the following websites useful:
Times Tables - https://ttrockstars.com/
Accelerated reading quizzes - https://ukhosted38.renlearn.co.uk/2244085/default.aspx
BBC learning - https://www.bbc.co.uk/bitesize
Oak National Academy - https://classroom.thenational.academy/subjects-by-key-stage/key-stage-2
Science Fun at Home - https://pstt.org.uk/resources/curriculum-materials/Science-Fun-at-Home
Y5 Summer 1 Curriculum Overview:
Year 5 Summer 1 Overview
Y5 Spring 2 Curriculum Overview:
Y5 Spring 1 Curriculum Overview:
Y5 Spring 1 Overview
Y5 Autumn 2 Term Curriculum Overview:

Y5 Autumn 2 Curriculum Overview
Y5 Autumn 1 Term Curriculum Overview:

Y5 Autumn 1 Term Curriculum Overview