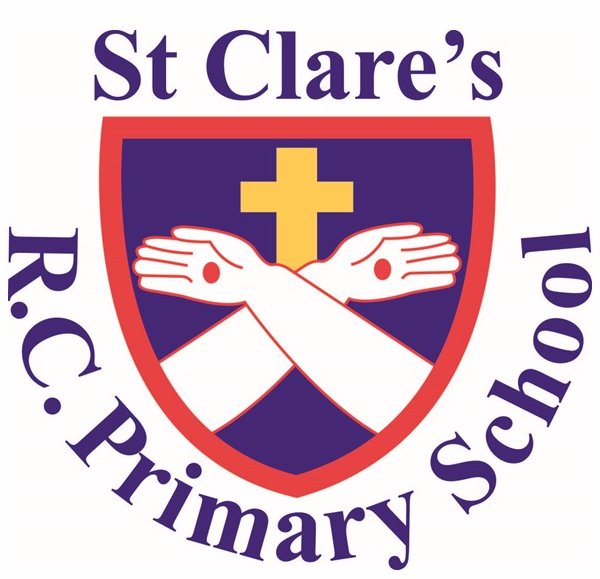 Hello and welcome to the Year 5 class page!
We would like to welcome you and your child to a new year at St Clare's. We are very much looking forward to the year ahead! On this page, you will find information about what the children will be learning throughout and the year and photographs of their amazing work.
Below is a list of general information on the weekly routines for each class.
Spellings will be handed out on a Monday with the test being on Friday.
Homework will be handed out on a Friday to be completed by the following Wednesday.
The daily reading expectation for year 5 is 30mins a night and reading records should be signed and brought into school every day.
5W - P.E - Monday indoor, Friday outdoor
5G - P.E - Wednesday outdoor, Friday indoor.
5W welcome presentation
If you have any questions, please get in contact.
Mr Willis
Email: r.willis@st-clares.manchester.sch.uk
Miss Gibson
Email: j.gibson@st-clares.manchester.sch.uk
Autumn 1 in year 5
English
During Autumn 1 our class read was Who let the God's out by Maz Evans, this tied in with our history topic looking at Ancient Greece. Using our class read we worked on two different literary genres newspapers and narratives some examples which you can see here.
Maths
As Mathematics in Autumn 1 we focused on place value and addition and subtraction. We look at a variety of different topics during our work on place value such as representation of number, rounding, roman numerals and using place value columns to add multiples of 10. In addition and subtraction we focused on both mental and written strategies to help the answer questions and solve reasoning problems.
Science
Our topic in science during Autumn 1 was to look at properties of different materials, we conducted numerous investigations where the children were able to engage their scientific curiosity by asking questions and working to find the answer.
History
As historians in Autumn 1 we travelled back to Ancient Greece. We explored numerous areas of the Ancient Greeks, looking at two city states, the Olympic games, Philosophers, democracy and education.
R.E.
In Autumn 1 we thought about ourselves and the part we play as God's family. We explored how God created us to be special and unique and how we all have valuable gifts and talents we can share with others. We also spent a week learning about Judaism and focused on the story of Passover and how Jewish people still celebrate it today.
Check out our videos on the four operations:
Addition
Subtraction
Multiplication
Division
Useful websites:
You may find the following websites useful:
Times Tables - https://ttrockstars.com/
Accelerated reading quizzes - https://ukhosted38.renlearn.co.uk/2244085/default.aspx
BBC learning - https://www.bbc.co.uk/bitesize
Oak National Academy - https://classroom.thenational.academy/subjects-by-key-stage/key-stage-2
Science Fun at Home - https://pstt.org.uk/resources/curriculum-materials/Science-Fun-at-Home
Y5 Summer 1 Curriculum Overview:
Year 5 Summer 1 Overview
Y5 Spring 2 Curriculum Overview:
Year 5 Spring 2 Overview
Y5 Spring 1 Curriculum Overview:
Y5 Spring 1 Curriculum Overview
Y5 Autumn 2 Term Curriculum Overview:

Y5 Autumn 2 Curriculum Overview
Y5 Autumn 1 Term Curriculum Overview:

Y5 Autumn 1 Term Curriculum Overview