Welcome To Year 6's Class Page!!
You may find the following websites useful:
Times Tables - https://ttrockstars.com/
Accelerated reading quizzes - https://ukhosted38.renlearn.co.uk/2244085/default.aspx
BBC learning - https://www.bbc.co.uk/bitesize
Oak National Academy - https://classroom.thenational.academy/subjects-by-key-stage/key-stage-2
Science Fun at Home - https://pstt.org.uk/resources/curriculum-materials/Science-Fun-at-Home
Maths games - Topmarks Education: teaching resources, interactive resources, worksheets, homework, exam and revision help
E-books - Oxford Owl for School and Home (each class has their own log in details)
Year 6 Overviews 2021
Summer Term
During this term we have been looking at World War 2 in Manchester. We have created our own newspaper articles on the Manchester Blitz and created our own artwork on this.
In computing we have completed our own maths quizzes on Scratch, click the links to try them!
https://scratch.mit.edu/projects/532804857/
https://scratch.mit.edu/projects/532806208/
https://scratch.mit.edu/projects/532806999/
https://scratch.mit.edu/projects/532808183/
https://scratch.mit.edu/projects/532809206
https://scratch.mit.edu/projects/532810167/
https://scratch.mit.edu/projects/532812623/
https://scratch.mit.edu/projects/532814610/
https://scratch.mit.edu/projects/532816006/
https://scratch.mit.edu/projects/532816808/
https://scratch.mit.edu/projects/532817707/
Spring Term
Holy Week
Year 6 began Holy Week with a trip to Church to learn about the Stations of the Cross. To maintain social distancing, we went in our class bubbles, instead of having a whole-school service like we usually do. Being in smaller groups allowed us more time to reflect and gain a deeper understanding of each of the Stations. We came back to school and imagined what it would have been like to have been in the crowd during Jesus' crucifixion, then we each wrote an emotional recount entitled 'I was there'. Have a look at a wonderful example by Alesha in the images below!
During the week, we also completed some Easter artwork - we chose to create Golgotha silhouette illustrations. We have fantastic artists in Year 6 and these pieces turned out beautifully. Have a look for yourself!
Last but not least, we ended the week with some delicious chocolate nests. Some of us have given up chocolate for Lent, so these will be enjoyed on Easter Sunday!
We wish all our pupils and families a happy and safe Easter!
Achievements
A huge WELL DONE to Charlie for winning this week's reading award! Charlie is a well-deserved winner of this prize as he requested a Google Meet every afternoon during his home-learning to read with a Year 6 teacher. We loved listening to your reading Charlie! Enjoy your crafting!
In science, we have been learning about light and how we see things. After learning about how light travels from a light source to an object, then reflects into our eyes, Heidi created her own 3D diagram at home! We love to see pupils taking such an interest and being creative with their learning. Well done Heidi, we are proud of you!
A special mention to Lily T for her beautiful presentation in all of her books. Lily takes pride in everything she does - have a look at a recent maths lesson! Keep up the lovely work Lily!
In RE, Year 6 have been learning about the significance of bread in the Bible. Did you know that it is mentioned 492 times? It has a variety of meanings and symbolism. In John chapter 6, Jesus refers to himself as 'the Bread of Life'. Bread offers nourishment for the body, but Jesus offers spiritual nourishment that leads us to salvation. When we say the 'give us this day our daily bread' in the 'Our Father' prayer, we are reminded that God has promised to provide for our needs. Furthermore, we remember The Last Supper, when Jesus broke the bread and said 'do this in memory of me'.
To celebrate this during the season of Lent, Year 6 baked their very own loaves of bread! The corridors were filled with the delicious, warm aroma and it was a fantastic afternoon for each class. Once they were baked, we enjoyed them with some toppings, while thanking Jesus for nourishing us and providing for our spiritual needs.
Please find our weekly timetable for online and in-school learning:
Year 6 weekly timetable
Autumn Term
We have had an excellent year so far in year 6!
Throughout the autumn term, we really enjoyed having a big science focus. Charles Darwin was the first person we studied, and we loved learning about all his theories, as well as looking at how different animals have evolved over time. It was really interesting to learn about how red foxes adapt to their urban environment, and how white foxes have adapted to their chilly, arctic habitat! We then went on to study our Hearts, and learnt so much about the circulatory system- it was fascinating. We did an experiment to measure our heart rate when doing different types of exercise, learnt all about Xenotransplantation and discovered what foods are best to maintain a healthy lifestyle and look after our hearts. It goes without saying that the part of this topic we enjoyed the most though, was dissecting a real life sheep heart! It excited us so much and most of us would love to do it again!
As well as science, we have found our RE topics really interesting. Our most recent one was learning all about Advent and the meaning of expectation.
Of course we have been doing a lot of maths and English as well. We have a busy year with our SATs coming up, so we have been working really hard on these subjects! In maths we have fixed so far in number, the four operations, and factions. In English we have read Pig Heart Boy, and written letters, biographies and balanced arguments. Just before we finished for Christmas, our teachers let us write a horror narrative, which we loved.
Spring term has now begun and we have a lot to look forward too. Our first topic is going to be World War 2 and we have been looking forward to this for a while! We can't wait to find out what countries were involved in the war, how the Blitz affected Manchester, and what life was like for evacuees.
Please keep checking back here for updates as the term progresses!!
Well done to these five pupils from 6H who won a writing competition, with the prize of having their story published in a book. They have received some very fancy certificates, and can't wait to get a copy of their book once it is published!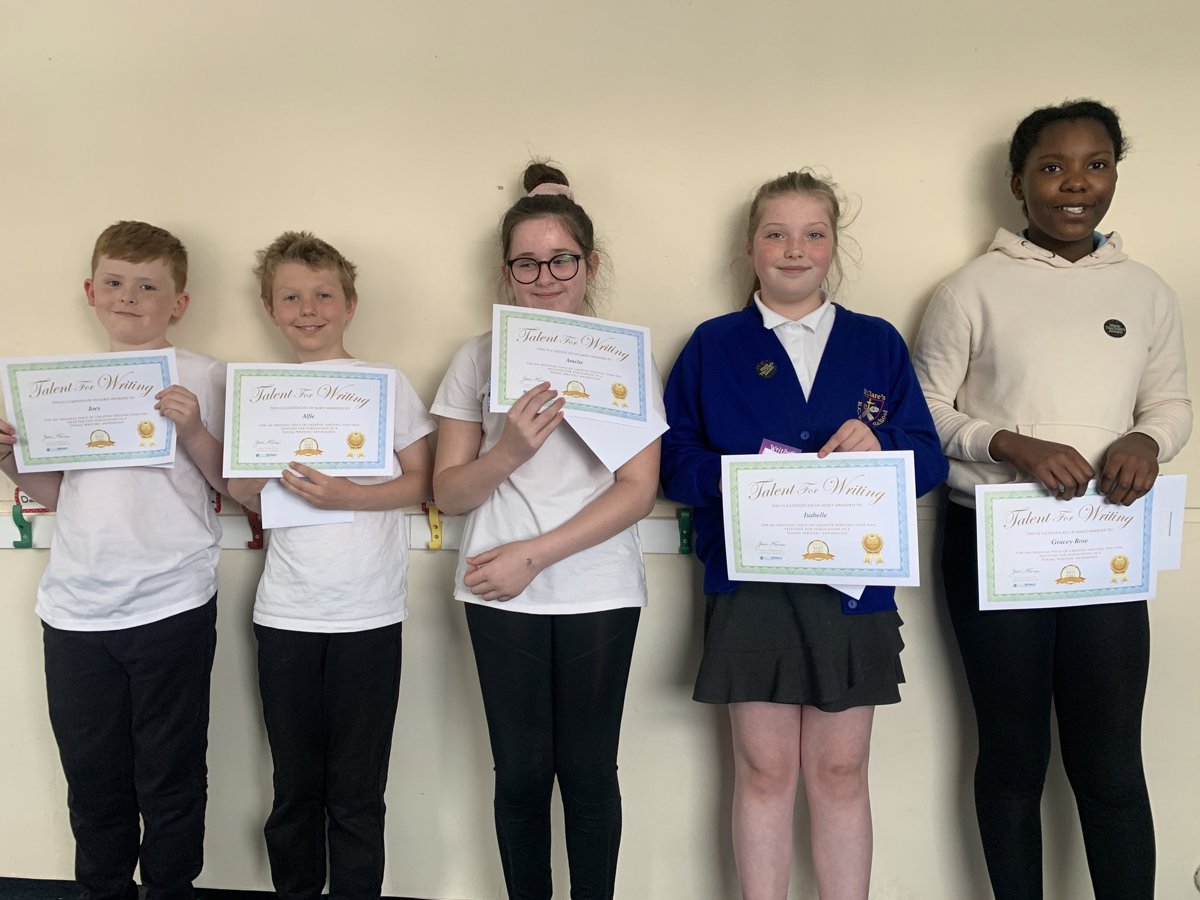 Curriculum Overviews
Year 6 Curriculum Overview 2018
Year 6 Curriculum Overview
Please have a look at the Curriculum Overview for Year 6 for Spring Term 1 2018.
Year 6 Curriculum Overview Autumn 1 2017