Our Role as Mini Clares Members
"It is up to you, young followers of Christ, to show the world that faith brings happiness and a joy which is true, full and enduring".
Pope Benedict XV.
The Mini Clares are a group of Year 5 and 6 children who have come together to give joyful witness to Christ in our school. The Mini Clares, inspired by the patron of our school to help the poor and vulnerable and to put Christ at the forefront of their lives, took St Clare's name for the team. The Mini Clares help our school community to grow in faith together through helping with the delivery and development of the prayer life of our school. They teach the school community about different Saints and promote the use of our school chapel as a prayer space. The team helps the school and parish family to celebrate special liturgical events and they support with the preparation and delivery of prayer and worship sessions and assemblies. The Mini Clares, as part of the school's Caritas mission, support the school community in our fundraising efforts for local, national and international charities, such as Caritas and Cafod. The Mini Clares are determined to inspire others and to help them deepen their connection with God, just as St Clare did for her community at San Damiano.
Throughout the year, Mini Clares run prayer opportunities and Caritas events to promote our faith and inspire others to give charitably to our brothers and sisters.
Mini Clares worship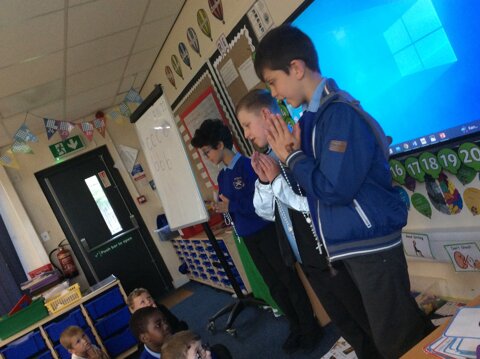 In October, we lead decades of the Rosary every Friday. We also taught all of the classes throughout the school about the Rosary and how to pray it.
RE Rosary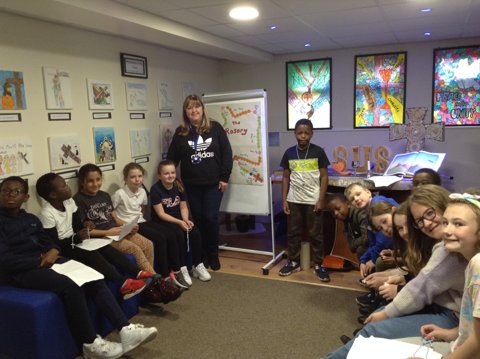 Our Mini Clares collected the harvest from around the school. They sorted the food into different categories and took it to our church's food bank to donate to people in our community who are in need. Fr Dariusz was thrilled with our generosity.
Harvest