Our Mission Statement:
'Guided by Jesus Christ, our teacher, we journey together, learning to dream, believe and achieve'
Our school is named after St Clare: she is the patron saint of our school. She was a follower of St Francis of Assisi. To find out all about St Clare and her life, please click on her image below:
We also have four house saints - St Francis, St Josephine, St Patrick and St Therese. All of our pupils belong to one of our saints' houses and earn tokens each week for a variety of reasons including friendship, kindness, good manners, resilience and good work. The tokens are used to determine which house will receive the half-termly treat. To find out more about our house saints, please click on their images below.
St Francis of Assisi St Josephine Bakhita St Patrick St Therese of Lisieux
Holy Communion
Our first group of children received the Sacrament of Holy Communion for the first time yesterday. The day marked another important step on their faith journey. They shared a beautiful celebration in church with Father Jeremiah, their families and friends and staff from school. The sun even shone down on them to mark this special occasion. May God continue to bless the children every day of their lives. We are incredibly proud of them all.
Ugandan Orphanage
On 4th April, our Chair of Governors (Mr Collins) is visiting an orphanage in Uganda. It is the first time that he has been back there since the Covid pandemic. We decided that we would like to support the children in the orphanage as part of our mission during the season of Lent. We held an own clothes day and in return our pupils brought in soap and toothpaste as a gift to their friends in Uganda. We were amazed at the generosity and kindness shown by the families and pupils in our school. Mr Collins is going to need a very big suitcase to transport them.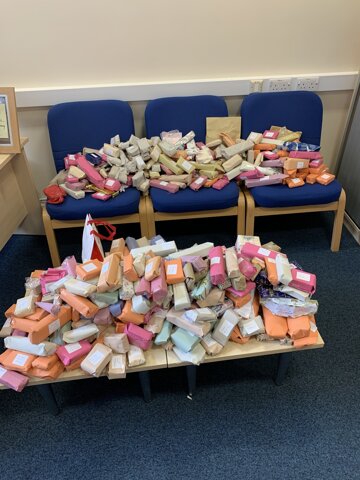 The children in the orphanage in Kampala, Uganda were delighted to receive our toiletry gifts and Father Joseph Ssali has written a letter of thanks to our school community.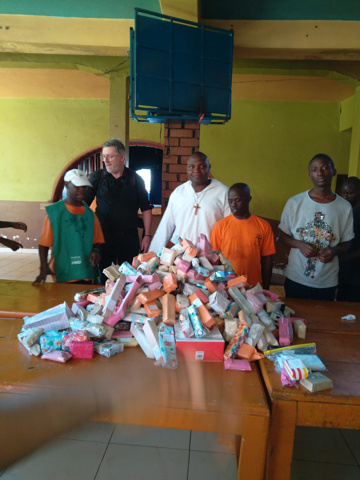 Harvest Service
On Tuesday 18th October, we came together as a school community to thank God for all the food we have. Part of our mission as a Catholic school is to reach out and support those people who are less fortunate than ourselves, just as Jesus did. We collected a vast amount of non-perishable food which we gave to our parish food bank to support others. The food was gratefully received.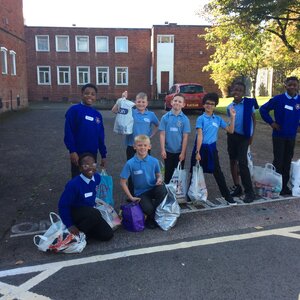 MacMillan coffee morning
On Friday 30th September, we joined thousands of other people in the country who held a coffee morning in support of MacMillan Cancer support. The morning was organised by our Year 6 pupils and it was a huge success due to the genorosity of our parents. We raised an amazing £688.04 for the charity.