Our Mission Statement:
'Guided by Jesus Christ, our teacher, we journey together, learning to dream, believe and achieve'
The patron saint of our school is St Clare. To find out more about her, please read the information below.
St Clare of Assisi
LIVED: 1194-1253 in Assisi, Italy.
Born
July 19, 1194 in Assisi, Italy
Died
August 11, 1253 in Assisi, Italy
MISSION: Along with St. Francis, St. Clare reformed and reinvigorated the Church by living a holy life of voluntary poverty.
FEAST DAY: August 11
STORY: Even as a child, Clare had a special friendship with Jesus. She loved to pray and to do holy things for him. But it was the preaching and example of a young man named Francis during Lent of 1212 that gave the eighteen-year-old Clare a path for her life. Francis, who was several years older than Clare, had also grown up in a wealthy, important family in Assisi (although not as wealthy and important as Clare's). He had given all of that up, following the instruction of Jesus to the rich young man in the Gospel: "If you wish to be perfect, go, sell your possessions, and give the money to the poor, and you will have treasure in heaven; then come, follow me" (Matthew 18:21). At first, the people of Assisi had thought he was crazy; but over time, as they saw his joy and happiness, and his kindness to the poor and to all creatures, they began to admire him, calling him Poverello, the poor little one. Many of the other young people of the area began to be attracted to his way of life, and before long, a little band of young men had gathered around him.
But it wasn't only the young men who were inspired by the ideals and example of Francis. Many young women would have joined him as well, if they could have. But in those days, young women—especially young noblewomen such as Clare—had two options in life: marriage or life in a cloistered monastery. There were many monasteries for women nearby, but none that lived in complete poverty as Francis and his companions did, owning nothing so they might be totally dependent on God.
Clare's father, Count Favorino Scifi, had made plans for his beautiful daughter to marry a rich young nobleman. But Clare, who had given her heart completely to Jesus as a young teenager, was determined not to marry. Clare knew her father, who had a stubborn streak and a hot temper, would not grant her wish easily. So after meeting secretly with Francis about what to do, she and her cousin Pacifica slipped out of the palace in the middle of the night on March 20—Palm Sunday and the beginning of Holy Week.
Although the night was dark, Francis sent his companions out to meet Clare and Pacifica with torches, to light the way. When the brothers met the young women, they broke into song as they proceeded to the little chapel of Saint Mary of the Angels. There, Clare and Pacifica traded their rich clothing for simple habits and veils, and after singing and praying, Francis cut off Clare's long, beautiful hair as a symbol of her commitment to a new way of life.
Count Scifi was so enraged when he discovered that Clare had become a nun, he rounded up his best knights and rode straightaway to the Benedictine monastery where Clare and Pacifica were staying until Francis could find them a more suitable place. Shouting and cursing, he stormed into the chapel where Clare was praying. But no matter how he raged, Clare refused to return home with him.
"You have given your allegiance to that young troublemaker, Francis, rather than obeying me, your father!" Count Scifi shouted.
"No, Father," Clare replied calmly. "I have given my allegiance to Christ; Francis only showed me the way." At that, the exasperated count grabbed Clare to drag her home. But Clare grabbed hold of the altar and would not let go.
It turned out that the daughter of Count Scifi had a stubborn streak of her own, at least when it came to the pursuit of holiness.
She would need that holy stubbornness on several occasions throughout the remainder of her life. More than once, her bishop or even the pope tried to force the religious order she co-founded with Francis, the Order of the Poor Ladies (now known as the Poor Clares) to hold property rather than remaining completely poor. But Clare insisted on following the path of radical poverty set by Francis, even long after Francis had died. In the end, her wishes prevailed.
Another time, invaders were preparing to attack the monastery of San Damiano, home to Clare and her sisters. Clare, who was quite ill at the time, rose from her bed, took the ciborium containing the Holy Eucharist from the chapel, and went to an open window where the invaders had already placed a ladder. There she stood, holding high the Blessed Sacrament. The soldiers coming up the ladder fell backward, dazzled, and fled, leaving the community in peace.
All of which proves that a little stubbornness isn't necessarily a bad thing, when it is used for the sake of Christ!
Heroic deeds
Co-founded (with Francis) the Order of Poor Ladies
Fasted constantly and joyfully
Served the poor and sick
Saved Assisi from invaders twice by praying before the Blessed Sacrament
Advised and encouraged Francis to continue active ministry
Patronage
eye disease, television
In school, we have four houses which are names after significant saints. Each week, children earn tokens for their house saint which results in a treat at the end of each half term. Our saints are people who inspire us to live as Jesus showed us to.
St Francis of Assisi
Feast day: Oct. 4
Have you ever wished you could talk to the animals? It is believed that St. Francis could.
St. Francis was born while his father was away in France. His mother baptized him shortly after his birth, naming him after St. John the Baptist. When his father returned he was angry–naming his son after a saint!
"I want my son to be a wealthy cloth merchant like I am," believed his father. So he renamed his son Francesco after the country of France which he loved.
Growing up young Francis had everything he could want, and as a teenager he led a sinful life. But he felt something was missing. St. Francis thought it was glory.
"If I just become famous, my life will be PERFECT!" So Francis decided to join a crusade (a war to save the Holy Land). He purchased a beautiful set of armor, a horse and everything else that was needed. He boasted he would return famous.
One day into the crusade, he had a dream. God wanted him to return home. St. Francis followed God's will. This was not an easy thing to do because of all the boasting he had done before leaving.
"HA! HA! look at Francis. He sure became famous! Famous for only being in the army one day! HA! HA!" St. Francis heard this kind of teasing everywhere he went.
St. Francis began to pray. One day while he was out riding his horse, he spied a dirty leper who smelled badly. What would you do if you met someone who was very sick and smelled? Well, St. Francis got down off his horse and gave this man a kiss on the hand. This surprisingly made St. Francis delightedly happy. As he rode off on his horse he glanced back. The man had disappeared!
"That must have been a test," thought Francis. "A year ago I would have turned my horse away from that man and ignored him."
St. Francis regularly went to a crumbling church to pray. One day, he heard Jesus talking to him from the crucifix.
"Repair my church," Jesus said. Believing he was to fix this old church, St. Francis gave a bunch of his family money for repairs. This made his father angry. "Give me back that money, Francis!" demanded his father. In response, Francis declared that he was no longer part of the family, and he didn't want any of his inheritance.
"I give back everything you have given me father, even the clothes on my body," said St. Francis.
St. Francis then led the life of a beggar and served God. Eventually he established an order of monks. There are stories about St. Francis being able to talk to the animals. One day there was a large flock of birds that St. Francis preached to, telling them they should be thankful. The birds stood still and listened as he walked among them. They only flew off when St. Francis told them to fly away.
Another story about St. Francis talking to an animal involved a wolf. This wolf had killed many people in a town due to hunger. The townspeople were going to hunt it down and kill the wolf. Instead, St. Francis went out and talked to the wolf, telling him to no longer kill anyone. The wolf obeyed and even became the town pet. The townspeople always fed the wolf from then on too.
St Josephine Bakhita
Feast Day: February 8
LIVED: Bakhita was born in 1869 in Sudan. She was kidnapped by slave traders at the age of seven; they gave her the name Bakhita, which means "lucky." She died in 1947 in Italy.
MISSION: As a girl, Bakhita would look up at the moon and stars, resolving to serve their Master. Later in life, she devoted herself to promoting Catholic missions to Africa.
ADVENTURES: Many weeks after being kidnapped, Bakhita found herself at a slave market, chained to another girl her age. The girls passed long hours telling one another about their families and how they had been kidnapped. Before long, they were planning an escape.
Their chance came one day when the overseer carelessly left them unchained and alone. Seeing no one around, they linked hands and ran into the countryside as fast as their legs could go. They ran through the wilderness all night, terrified of being caught and even more terrified of the roars of wild beasts; whenever the animals came too close, they took shelter in a tree. Once, they hid behind a thorn hedge for two hours while a long caravan passed nearby.
But the girls had no idea where they were going. It wasn't long before Bakhita realized they were lost. Bakhita was not a Christian, but she had always looked to the night sky and wanted to know the One who had created the moon and stars. Now she looked to the sky for guidance once more—but this time, to her surprise, she saw a beautiful figure, bathed in light and smiling at her. The figure pointed the way to go, and Bakhita led her companion in that direction.
Although the figure led Bakhita and her friend safely out of the wilderness, the girls were caught by another slaver late the next day and sold on. It seemed that Bakhita had failed in her quest for freedom. Indeed, she spent twelve years in cruel slavery. But that was not the end of her story. With the help of the Canossian Sisters, she won her freedom, became a Christian, and joined their order. She even received a new name at her baptism: Josephine Margaret Bakhita.
And the shining figure in the night? Bakhita came to believe it was her guardian angel, who stayed with her all along, guiding her to God. As she said: "If I were to meet those who kidnapped me, or even those who tortured me, I would kneel down and kiss their hands. Because, if those things had not happened, I would not have become a Christian and would not be a Sister today."
St Patrick
FEAST DAY:17th March
LIVED: Patrick grew up in Britain, probably in the early 400s, and was kidnapped by Irish raiders at the age of sixteen. After being enslaved for six years, he managed to escape home.
MISSION: After returning to Britain, Patrick became a bishop. Then he had a dream in which he heard the Irish calling to him, "We appeal to you, holy servant boy, to come and walk among us." He traveled back to Ireland, and spent 29 years building the Church there.
ADVENTURES: Shortly after returning to Ireland, Patrick and some companions traveled to the land of the High King of Tara. They camped at the hill of Slane on the night of Holy Saturday—the night of the Easter Vigil. As the sun set, Patrick and his friends could see the palace of King Laeghaire sitting high on the hill of Tara, ten miles to the south.
Now, the Irish people were celebrating their own festival, and it was the law that there should be no fire in the whole land until the druids lit a bonfire on top of the hill of Tara. Breaking this law meant death.
But Patrick had come to bring the light of Christ to Ireland, and he was determined to celebrate Easter that night. If you have ever attended the Easter Vigil, you know that it begins with a large bonfire, from which the Easter candle, representing the light of Christ, is lit. Well, Patrick and his friends built the largest Easter bonfire ever, one that the king and his druids would be sure to see.
When they did, the king was furious, and his druids were afraid. "If that fire is not put out this night, O king," they said, "it will never be extinguished from the land."
Angrily, the king rode out with his whole retinue, intending to kill Patrick. But Patrick and his friends bravely walked out to meet the king and his warriors, chanting: "Some trust in chariots, and some in horses; but we will call upon the Name of the Lord our God."
The bravery of the Christians so impressed the warriors that one believed in God on the spot—the first of more than 100,000 Irish to whom Patrick would bring the light of Christ. And just as the druids had predicted, it was never extinguished from the land.
St Therese of Lisieux
Feast Day: 1st October
Thérèse Martin was born in France on January 2, 1873, the last of nine children, four of whom died in infancy. After losing her mother to breast cancer at the age of four, Thérèse became a very sensitive child, crying over almost anything. But under the loving guidance of her father and four older sisters, she grew in holiness and wisdom far beyond her years.
By May 1887, Thérèse was determined to enter the Carmelite community at Lisieux. After overcoming objections from Church officials over her young age, the fifteen-year-old Thérèse entered the convent where she would live for the rest of her life with three of her sisters who also became Carmelite nuns (another sister became a Visitation nun). Over the remaining nine years of her life there, Thérèse blossomed in strength and holiness. In 1895, she was ordered to write a memoir of her childhood; this, together with some of her other writings, was published after her death as Story of a Soul. She died of tuberculosis in 1897 at the age of twenty-four.
Story of a Soul quickly became one of the most popular spiritual writings of the twentieth century. Despite its apparent simplicity, many have found in it a profound wisdom, so much so that Pope John Paul II declared her a Doctor of the Church, one of only four women so named.
In Story of a Soul, she tells of how she prepared a spiritual bouquet for Jesus on the occasion of her First Communion:
I shall always remember my First Communion Day as one of unclouded happiness. It seems to me that I could not have been better prepared. Do you remember, dear Mother, the charming little book you gave me three months before the great day? I found in it a helpful method which prepared me gradually and thoroughly. It is true I had been thinking about my First Communion for a long time, but, as your precious manuscript told me, I must stir up in my heart fresh transports of love and fill it anew with flowers. So, each day I made a number of little sacrifices and acts of love, which were to be changed into so many flowers: now violets, another time roses, then cornflowers, daisies, or forget-me-nots—in a word, all nature's blossoms were to form in me a cradle for the Holy Child.
The story above imagines what kinds of sacrifices Thérèse might have made for her spiritual bouquet. We know from the writing of her mother (as well as her own words) that, as a young child, Thérèse could be "incredibly stubborn," and sometimes fought with her sisters. We also know that she imagined herself as a little ball for Jesus to play with, and that she was afraid of the dark. And in Story of a Soul, she describes numerous little sacrifices and acts of love that she made for the sake of Jesus.
However, the wheelbarrow incident described in this book is wholly imagined . . . and we don't really know what she thought of squash.
In the little sacrifices she made for others, Thérèse imitated Jesus' sacrifice on the cross. All of us are called to follow Jesus in this way. If Thérèse could do it, so can you!
Harvest Service
On Tuesday 18th October, we came together as a school community to thank God for all the food we have. Part of our mission as a Catholic school is to reach out and support those people who are less fortunate than ourselves, just as Jesus did. We collected a vast amount of non-perishable food which we gave to our parish food bank to support others. The food was gratefully received.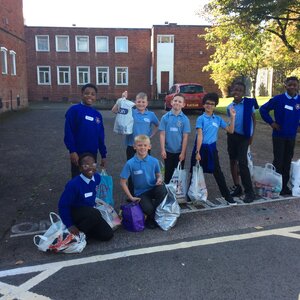 MacMillan coffee morning
On Friday 30th September, we joined thousands of other people in the country who held a coffee morning in support of MacMillan Cancer support. The morning was organised by our Year 6 pupils and it was a huge success due to the genorosity of our parents. We raised an amazing £688.04 for the charity.